The News
Breaking News: A new species discovered in Hawaii!
Introducing KilaueaWebworks.com v2.0:Chameleon. Kilauea WebWorks is showing it's colors - it's the whole gamut! Defining ourselves and what we stand for in a word would be "adaptable" and what more appropriate creature would that be than Hawaii's resident Jackson Chameleon?
Kilauea Webworks is truly a different kind of creature and we are pleased to introduce you to our new look and new site in 2007. Our brand new logo was designed in-house by one of our design staff. Our much expanded site features a Client Tools area with useful information and answers to common questions and issues, as well as an expanded portfolio and a quote form.
As we say goodbye to 2006 we look back on a year of growth for Kilauea Webworks. The last year brought exciting new projects as well as the introduction of another designer to your team. We're starting 2007 with a new group of projects which we look forward to introducing in the coming months. Stay tuned!
Introducing Coldwell Banker Day Lum Properties - daylum.com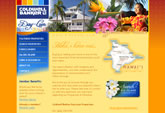 Coldwell Banker Day Lum Properties has been serving the Big Island real estate market for over 15 years and is recognized as a Coldwell Banker Premier Office. With 21 real estate professionals Coldwell Banker Day Lum has the #1 market share in East Hawaii. Their site features online searching of the entire Hawaii MLS as well as enhanced featured listings in a searchable index.
Launched December 2006, daylum.com is an entirely database-driven website. The client's site needed a facelift and additional features not found on their existing site. After consulting with them we decided the best solution would be to install an application to manage their listings and allow their individual realtors to manage their own information. Day Lum lists and manages all ranges of properties island-wide so we wanted to present a design that is tropical, refined and fun that will appeal to Hawaii residents and potential residents. Our design focuses on flexible navigation and efficient presentation of information.
View daylum.com | Portfolio
Introducing Dean Gilpin & Associates - deangilpin.com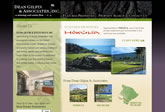 Dean Gilpin & Associates Inc. is a real estate group in Kona specializing in luxury properties and prestigious estates, including Hokulia and Holua Kai. DeanGilpin.com also provides full searching of the entire Big Island MLS.
Launched October 2006, deangilpin.com is the first phase of the company's online presence. A small site, it was constructed with an eye towards expansion. It's primary function is to provide a portal into the Hawaii MLS and some overview information of two of the developments represented by DGA. The client supplied the artwork for their logo as well as some photos of their offices. Using a color scheme and textures inspired by their office decor we created a design to reflect natural elegance.
View deangilpin.com | Portfolio
Introducing Waipio Valley Ride the Rim - ridetherim.com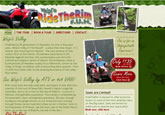 Located in Honokaa, Waipio Ride the Rim provides exclusive access to some of the most beautiful views of Waipio Valley from the rim. The 3+ hour ATV ride (4x4 vans are also available) takes visitors through forests and fields, past waterfalls and to stellar lookouts. Limited seating so booking ahead of time is a must!
Released in August 2006, ridetherim.com is a brochure style site which includes a dynamic bookings system to accept and process tour bookings for Ride the Rim's ATV adventures. The client supplied their logo and some images to start. In order to get a feel for what our client was about, our designers went on the tour to gather photographs and information for use on the site. The color scheme was chosen to blend with their logo and texture and natural edges are evocative of the outdoors.
View ridetherim.com | Portfolio
Jackson's Chameleon
(Chamaeleo jacksonii)
TAXONOMY
Kingdom: Animalia
Phylum: Chordata
Class: Reptilia
Order: Squamata
Family: Chamaeleonidae
Genus: Chamaeleo

Species: jacksonii

Subspecies: jacksonii (Boulenger, 1896)

Subspecies: merumontana (Rand, 1958)

Subspecies: xantholophus (Eason, Ferguson and Hebrand, 1988)

Subspecies: dotcomi
(Fieldson, 2007)*

* Mind, we really are joking on that last bit.